Senior Menu
Senior Menu
SENIOR FREQUENT DINER CARD
For seniors (55 & older) only. One senior frequent diner stamp per single meal purchase per customer per day. Not valid with any other offer. Must present card at time of purchase and/or meal redemption. Free meal redemption valid on senior menu only. Sorry, no substitutions.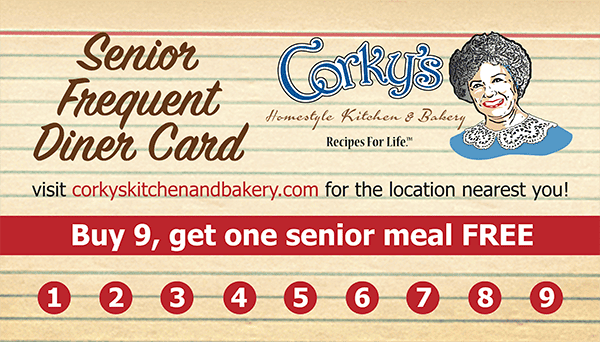 SENIOR BREAKFAST
Served 24 hours
2 Item Omelette
Choose from: tomato, cheese, bell pepper, mushrooms, onion, ham, bacon, sausage, Ortega chile, sour cream, Spanish sauce. Served with choice of hash browns, home fries or fruit & toast or biscuit.

Items available for additional charge:
avocado, spinach, Polish sausage and diced chicken.
SENIOR LUNCH
Served 24 hours

No Gluten Added

Vegetarian